Under Every Helmet and Hat is a Child Who Needs Us!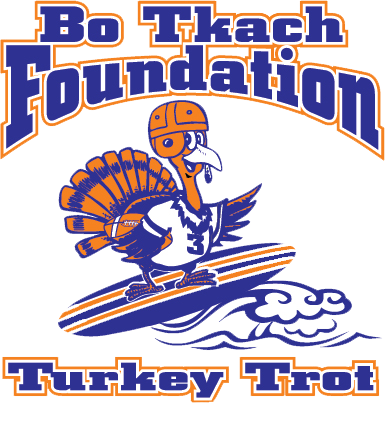 Thanksgiving – November 23, 2017
Helping to improve the future of our Youth
Bo Tkach Foundation 5K Turkey Trot @ The Palmerton Park in Palmerton, PA
Registration
Registration questions:
Jim Tkach 484-225-2706
Mail in Registration:
Must be be mailed to:
Dedicated Fitness, Attn: Chris Jahelka
450 Delaware Ave., Palmerton, PA 18071
Make checks payable to the
Bo Tkach Foundation
Online Registration:
Information
WHO:
Runners (and walkers) of all ages. Gather your family, friends, and co-workers.
WHERE:
Starts in the Palmerton Park located at 3rd Street and Delaware Avenue, Palmerton, PA 18071. Trot proceeds through scenic town of Palmerton.
REGISTRATION:
Early registration fee for adults is $25 and $15 for youth (12 and under) which includes a t-shirt.
Early registration closes November 17, 2017. Those registered after November 17, 2017 will receive a t-shirt, only while supplies last. Youth registration will remain $15 and adult registration will be $35 after November 17, 2017.
PLEASE BRING A NON-PERISHABLE FOOD ITEM FOR THE LOCAL FOOD PANTRY (no glass)
AWARDS:
Top male and female overall, top 3 males and females in each age category: 13 and under, 14-18, 19-29, 30-39, 40-
49, 50-59, 60+ (awards for runners only)