Under Every Helmet and Hat is a Child Who Needs Us!
Travis Bo Tkach was the pride of his community. A 2001 Northern Lehigh High School graduate, Bo was a two-time first team All-State football player and a two-time District 11 javelin champion. In 1999, he quarterbacked the first ever District 11 championship team at Northern Lehigh and played in the first Pennsylvania East-West All Star Game. Bo was named to the ESPN Academic High School Football All-American team in 2000-2001. In 2001, he was named Most Valuable Male Athlete of Northern Lehigh. He was also the school's representative for the Best of the Best.
Bo's All Star athletic talents and academic achievements brought him admiration from friends, family, and his community. But, it is his compassion and his role as a Good Samaritan, willing to give up the last few dollars in his pocket so a homeless person could catch a ride on the city bus in order to stay warm during a cold blustery winter evening, that we honor most with this award.
Along the path of life, Bo learned how to inspire others on and off the field. He routinely offered tips to budding high school athletes who saw him as the picture of success. In gym class Bo would select the most challenged individual for his team and he would befriend those who were off the beaten path. Those random acts of kindness, coupled with intense competitive spirit, strength, and determination defined Bo to those who were privileged to share life with him.
The recipient of the Bo Tkach Under the Helmet and Hat Scholarship should have firm plans to attend a college, university, technical, or vocational institution. The candidate does not need to be athletically or academically talented but they do need to be extraordinary in other ways. The recipient should be well rounded, community minded, and have a sincere concern for others; someone who would defend those who could not defend themselves. This scholarship should reward the recipient for helping others while expecting nothing in return.
The award is selected by the entire faculty of each of the high schools.
School Districts
Marian Catholic
Northern Lehigh
Jim Thorpe
Lehighton
Northwestern Lehigh
Panther Valley
Weatherly
Palmerton
Carbon Career and Technical Institute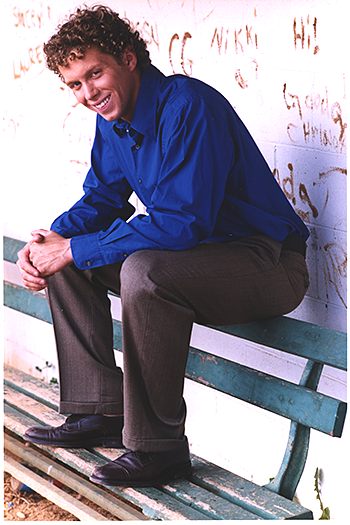 2019 Scholarship Recipients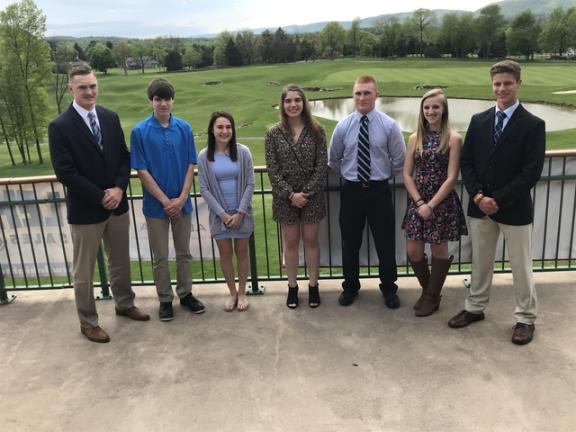 Nine students, selected by the faculty at their school, will each receive a $1,500 scholarship to further their education from the Bo Tkach Under the Helmet and Hat Foundation. The recipients include, from left, Nathan Rosahac of Jim Thorpe, Anthony Macuschak of Weatherly, Sarah Zabroski of Panther Valley, Sydney Vincent of Lehighton, Willard Dellicker of Northwestern Lehigh, Skyler Graver of Carbon County Technical Institute and Adam Keselicka of Marian Catholic. Madison Martinez of Palmerton and Katie Guelcher of Northern Lehigh were also recipients. Photo credit: TNONLINE.COM
The students were honored Wednesday night at a dinner following the foundation's annual gold tournament. Read the full article here. www.tnonline.com
2018
Austin Stasko
Northwestern Lehigh
Robin Krajir
Panther Valley 
Alyssa Stamets
Carbon Career and Technical Institute
Lucas Boyle
Jim Thorpe
Sarah Berube
Marian Catholic
David Citro
Lehighton
Kyle Kralik
Palmerton
Johnathan Arthur
Weatherly
Trevor Hoffman
Northern Lehigh
2017
Gunnar Rehrig
Marian Catholic
Wyatt Delans
Northern Lehigh
Brendan Carroll
Jim Thorpe
Miguel Gonzalez
Lehighton
Jonathan Blaine
Northwestern Lehigh
Brendan Morgans
Panther Valley
Nalani Lowman
Weatherly
Jacob Snyder
Carbon Career and Technical Institute
Hailey Muniz
Palmerton
2016
Quentin Bernhard
Northwestern Lehigh High School
Dylan Bucior
Jim Thorpe Area High School
Jericho Burger
Palmerton Area High School
Ansleigh Cressman
Carbon Career and Technical Institute
Wyatt Clements
Lehighton Area High School
Casey Grover
Weatherly Area High School
Sam Stanko
Panther Valley Area High School
2015
Christopher Trovato
CCTI
Catherine Malesky
Weatherly
Hunter Gibson
Jim Thorpe
Kelly Westermann
Palmerton
Adam Nevenglosky
Panther Valley
Grace Shoeniger
Northwestern Lehigh
Mitchell Pados
Lehighton.
Floyd Snyder
Northern Lehigh